Prisoner of War / Missing in Action Ohio Organizational Awareness License Plate
Sponsored by Rolling Thunder® Chapter 1 Ohio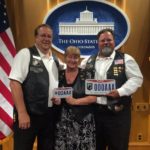 Winston, Sue & Jim
What Is the POW/MIA Awareness Plate?
A way to raise awareness for those left behind in all wars and raise funds for struggling Ohio Veterans injured in the line of duty.  The cost is $40 above that of standard license plates: $15 goes to the Bureau of Motor Vehicles (BMV) and $25 goes to MIRF.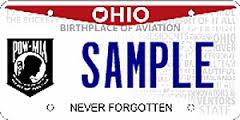 What Is the Military Injury Relief Fund (MIRF)?
MIRF provides grants to service members injured on active duty to help make ends meet when they come home.  For more information, visit http://jfs.ohio.gov/veterans/new/mirf.stm
How Can You Get Your Own POW/MIA Awareness License Plates?
Available to all veterans or non veterans
Go to your local Deputy Registrar's office, go to,  www.OPlates.com, or CALL 1-800-589-8247.  If you visit your local BMV, specify that you want the awareness plate!  For more information, visit http://www.bmv.ohio.gov/special_interest_plates.stm . We hope you will help Ohio veterans by purchasing your own POW/MIA Awareness license plate.
Buy or Renew Your Plates Today to Support Your Fellow Ohio Veterans!
Now available to all registered Ohio drivers, for cars, trucks (up to 11,000 lbs), trailers, and motorcycles.